Like ketamine, psychedelics have shown promise in the clinic for treating neuropsychiatric diseases. The DMT-containing herbal tea known as ayahuasca produces fast-acting antidepressant effects within a day, psilocybin eases the anxiety of terminally ill cancer patients and MDMA can reduce fear in those suffering from post-traumatic stress disorder (PTSD). Our recent papers suggest the intriguing possibility that psychedelic compounds and ketamine might share a common therapeutic mechanism.
Psychedelics vs. psychoplastogens
Strictly speaking, a psychedelic is a "mind-manifesting" drug – a definition that's open to interpretation. They tend to produce perceptual distortions or hallucinations by activating 5-HT2A receptors. Our research group has found that compounds typically regarded as psychedelics, like LSD and DMT, as well as those that are sometimes called psychedelics, like MDMA, and those that are not usually called psychedelics, like ketamine, are all capable of profoundly impacting neuronal structure.
Our group has coined the term "psychoplastogen" to refer to such compounds, and we believe that these molecules may hold the key to treating a wide variety of brain diseases.
Our studies on neurons grown in dishes, as well as experiments performed using fruit flies and rodents, have demonstrated that several psychoplastogens, including psychedelics and ketamine, encourage neurons to grow more branches and spines. It seems that all of these compounds work by activating mTOR – a key protein involved in cell growth.
The biochemical machinery that regulates mTOR activity is intricate. As we tease apart how psychedelics and other psychoplastogens turn on mTOR signaling, we might be able to engineer compounds that only produce the therapeutic effects on neuronal growth while bypassing pathways that lead to undesired hallucinations.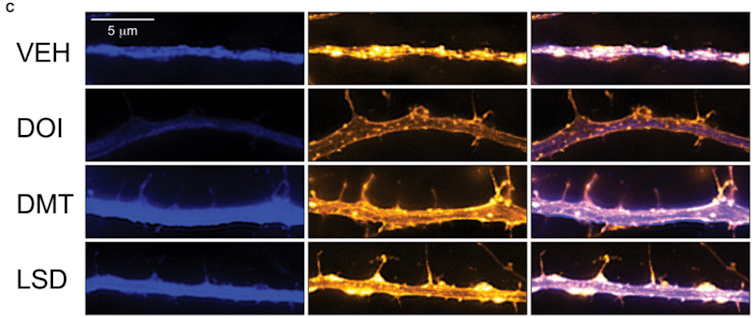 The field has known for some time now that psychedelics can produce lasting positive effects on brain function, and it's possible that these long-lasting changes result from the psychoplastogenic effects of these drugs. If true, this would suggest that psychoplastogens might be used to repair circuits that are damaged in mood and anxiety disorders.
Panacea or poison?
Many diseases, such as depression and anxiety disorders, are characterized by atrophy of dendritic branches and spines. Therefore, compounds capable of rapidly promoting dendritic growth, like psychedelics, have broad therapeutic potential. The number of papers demonstrating that psychedelics can produce therapeutic effects continues to grow every year.