Quick Take
Denali Therapeutics (DNLI) intends to raise $100 million in gross proceeds from an IPO of its common stock according to an S-1 registration statement.
The firm focuses on providing solutions for neurodegenerative diseases, specifically for Parkinson's disease, ALS and Alzheimer's disease.
When we know more details about IPO terms, I'll provide a final opinion at my IPO research service, IPO Edge.
Company
San Francisco, California-based Denali Therapeutics was founded in 2015 to discover and develop therapies for patients suffering from neurodegenerative diseases.
Although Parkinson's disease is currently the company's main focus, other disease treatment candidates in the company's pipeline include treatments for ALS (Amyotrophic Lateral Sclerosis) and Alzheimer's disease.
Management is headed by CEO Ryan Watts and COO Alexander Schuth. Before leading Denali Therapeutics, Watts was a Director of the Department of Neuroscience at Genentech (DNA), and Alexander Schuth was the Head of Technology Innovation and Diagnostics Partnering at Genentech.
Institutional investors include Baillie Gifford, ARCH Venture Partners, Flagship Pioneering, F-Prime Capital Partners, Biomatics Capital Partners and the Alaska Permanent Fund.
Technology
Denali Therapeutics is developing therapeutics to defeat nervous system degeneration. The therapeutic targets and disease pathways that management selects for potential treatment are based on what we call 'degenogenes,' or mutated genes that present a major risk for neurodegenerative diseases.
The company's strategy is marked by three key principles:
Genetic pathway potential
Engineering brain delivery
Biomarker-driven development
(Source: Denali S-1)
Denali's most advanced program focuses on the LRRK2 pathway for Parkinson's disease. The most frequent genetic causes of Parkinson's disease are mutations in the LRRK2 gene.
Product candidate DNL204, a small molecule inhibitor of LRRK2, is currently in Phase 1 development, although the FDA placed the candidate on a partial clinical hold 'in order to impose an exposure cap on our Phase 1 study based on preclinical toxicity study findings.' Management believes this exposure 'cap' will still allow full inhibition of LRRK to return it to normal, but also said ominously:
If the exposure cap is not lifted in our Phase 1 clinical trial, we will not be able to evaluate doses and exposures that would potentially achieve higher degrees of LRRK2 kinase inhibition, which may negatively impact the development of DNL201. We expect data from this study in the first half of 2018.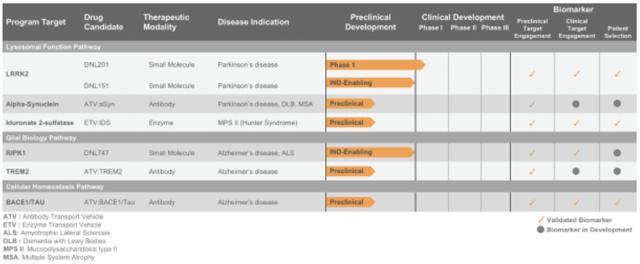 (Source: Denali S-1)
Market
Given Denali's lead candidate is for the treatment of Parkinson's disease, we'll address the potential opportunity for that specific market.
According to a 2016 market research report by GBI Research, the Parkinson's disease market is set to expand from $2.1 billion in 2014 to $3.2 billion by 2021, at a moderate Compound Annual Growth Rate of 5.7%.
The report said that in 2011 there were believed to be 16.1 million Parkinson's cases worldwide, 'and after Alzheimer's disease it is the second most common neurodegenerative disease worldwide.'
The main factors driving market growth are expected to include 'early [drug] pipeline shifts towards disease-modifying therapies' for long-term disease treatment and in the short -term, 'long-acting symptomatic treatments.'
The report also pessimistically stated that 'due to an incomplete understanding of the underlying mechanisms that cause the disease, a viable therapeutic target to halt or slow disease progression is currently not in scope, which limits the effectiveness of current product development programs.'
Competition
Major competitive vendors that are developing Parkinson's and Alzheimer's treatments include dozens of the largest biopharmaceutical firms worldwide. These include but are not limited to:
Levodopa (L-Dopa) is the current 'gold standard" approved treatment for Parkinson's Disease. Numerous manufacturers are developing this symptomatic treatment globally.
Notably, management states that it may face competition from gene-editing technologies in addition to direct competitors.
Financials
Denali's financial results are typical of clinical stage biopharmaceutical firms in that they feature no revenues and significant R&D and G&A costs associated with the development of their pipeline of drug candidates.
As of September 30, 2017, the company had $190 million in cash and $17 million in total liabilities.

(Source: Denali S-1)
IPO Details
Denali intends to raise $100 million in gross proceeds from an IPO of its common stock, although the figure is a commonly-used placeholder and the ultimate IPO amount may be quite different.
Management says it will use the net proceeds from the IPO as follows:
to fund the costs of Phase 1 trials in healthy volunteers for each of DNL201 and DNL151 and a Phase 1b study in LRRK2 mutation-carrying Parkinson's disease patients, as well as preparation for a potential future Phase 2 clinical trial;

to fund the costs to advance our RIPK1 program through Phase 1 and early Phase 2 clinical development, substantially represented by the planned Phase 1 clinical trial in healthy volunteers, including a cohort in Alzheimer's disease patients, for DNL747 and a Phase 2a clinical trial in ALS patients and a Phase 2a clinical trial in Alzheimer's disease patients;