SR: I have lost over 60 pounds [4 stone, 2 pounds]. However, I am not sure on the exact number anymore as I stopped weighing myself! I started my journey at 200 pounds [14 stone, 2 pounds], size 12/14 [UK 16 to 18], and am now under 140 [10 stone] and a size 2/4 [UK 6 to 8].
PS: What was the first big difference, other than the number on the scale, that really made you feel proud and excited?
SR: I truly think it was the way I felt. It was like I had a new passion for life. I felt great, was ready to take things on, and felt confident in myself again. When you hear that physical changes are only half as big as mental changes, it's really true! It made me so happy to feel energised instead of sluggish, happy instead of "blah," and back to my old self again overall.
PS: How do you track your weight loss?
SR: I track weight loss now by inches and how my clothes fit. I'm not focused on losing weight anymore, but really gaining lean muscle and toning up.
Sara: Before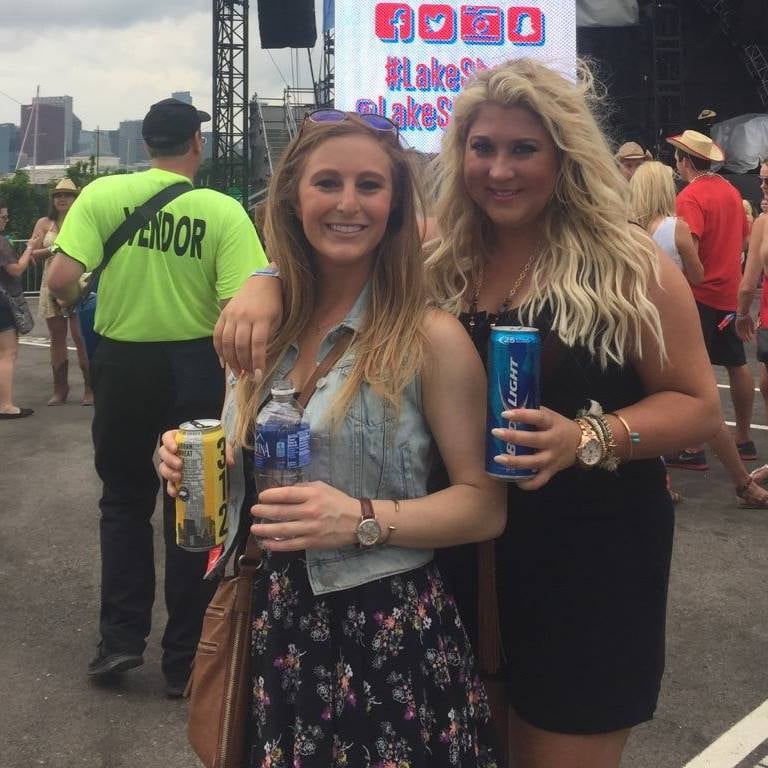 PS: What's a typical day of meals and snacks?
SR: For breakfast, my meal usually looks like: protein waffle or pancakes (add bacon, peanut butter with banana, sugar-free preserves, or syrup), egg whites with turkey bacon and avocado on the side, an omelette, oatmeal with protein powder, avocado toast, or peanut butter toast. Lunch is typically leftovers from dinner the night before or a nice big salad with chicken or ground turkey and a lot of veggies.
Dinner varies, but some of my favourite meals are: sausage and veggies, shrimp stir-fry, salmon and asparagus, ground turkey lettuce wrap tacos, chicken and broccoli, etc. I love sweet potatoes as a side as well. Snacks depend on whether I am on the go or not. If I am travelling, I try to keep a protein bar (Quest and RX are my favourite) or protein shake (Premier Protein is my favourite) with me. Otherwise I love veggies and hummus, apples and peanut butter or almond butter, almonds, rice cakes with peanut butter, Greek yogurt, or cottage cheese.
PS: Do you count anything other than calories? Why or why not?
SR: I don't weigh myself or count calories because I get very obsessive with it, which I don't think is healthy. I think as long as I am healthy, feeling good, fuelling my body with healthy foods, and exercising, that is what is most important. I have a general ballpark of caloric intake in my mind, but I do not count calorie by calorie. I do think tracking macros is great for the right person and the right reasons.
PS: What's the range of calories you eat per day?
SR: About 1,600 to 2,000. Since I don't actually track, this is an estimate.